News
Aura CDT present at UKRI Strategy Roadshow
8 February 2023
The Aura Centre for Doctoral Training was featured at the launch of UK Research and Innovation's (UKRI) first 5 year research strategy in Newcastle on 3 February. Aura CDT Director, Dr Rob Dorrell and Deputy Director, Prof Jim Gilbert were invited to present on the theme of resilience, and outlined the CDT's successes, outcomes and impact, also showing the premiere of our new film featuring our CDT students, academics and industry partners.
The event was part of a series of UKRI Strategy showcases, exploring how UKRI will catalyse high quality research and innovation in the UK, so they were keen to speak to all our Aura CDT representatives and capture their thoughts. Six of our Aura CDT PhD students attended the event, representing the broad range of transdisciplinary research taking place at each of the four partner institutions – Hull, Durham, Newcastle and Sheffield. They spent time chatting with UKRI's CEO, Professor Dame Ottoline Leyser and networking with other speakers and event attendees from industry and academia. Also present were Aura CDT Project Leads, Prof Will Coombs from Durham University and Prof Nikos Dervilis of The University of Sheffield.
The Newcastle event was attended in-person by over 180 guests and a further 86 people joined online. You can view a recording of the event on youtube (Aura CDT presentation is at approximately 41 mins). Or you can register with the UKRI's Attendee Hub to review recordings of each regional event, browse the virtual exhibitions, and explore UKRI's strategy in more detail (live until the end of March 2023).
Following the event, the Aura CDT has also been invited to join UKRI for a parliamentary reception in March to celebrate the strategy. This will bring together parliamentarians, academics and industry stakeholders, along with UKRI leadership, to showcase some of the key research and innovation projects taking place across the UK that highlight the key themes of UKRI's strategy.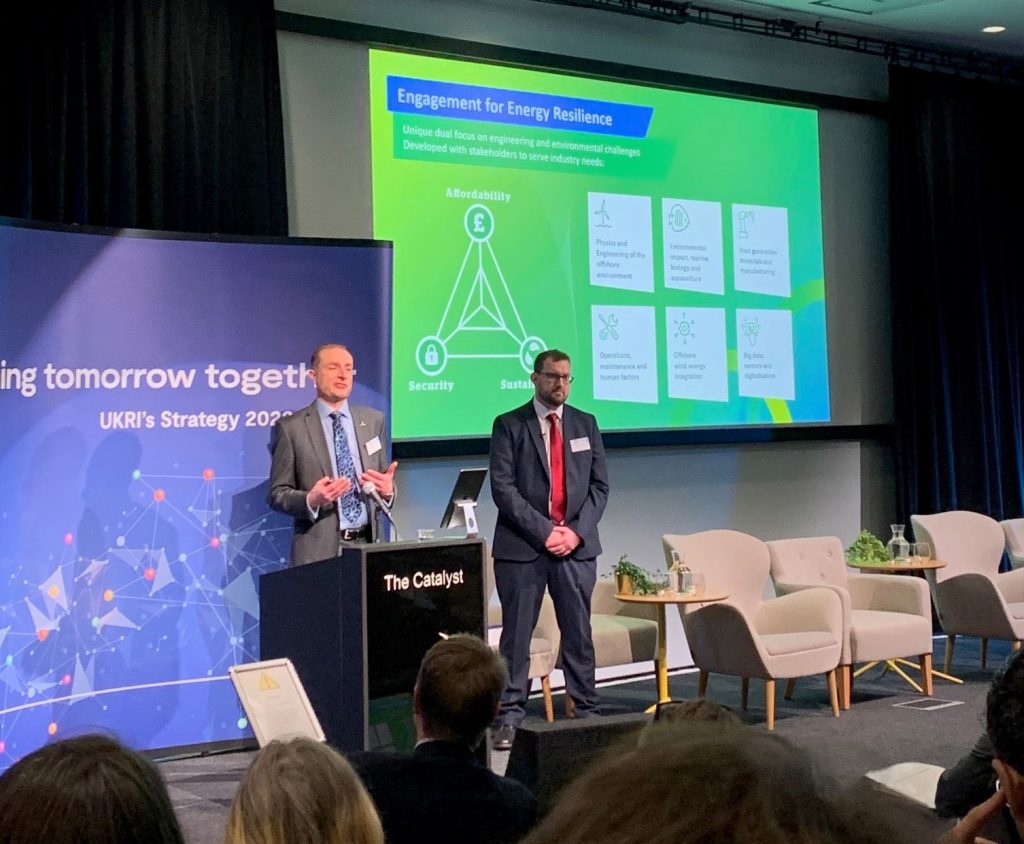 The Aura CDT is led by the Energy and Environment Institute, with partners Durham, Newcastle and Sheffield universities. The CDT is unique in its dual focus on the engineering and environmental challenges facing the offshore wind industry, reflected in funding from both the EPSRC and NERC. Four diverse cohorts of students have already begun their studies with the Aura CDT, with a fifth cohort due to commence in September 2023.