News
Aura CDT student helps schoolchildren reach for the stars
4 April 2022
Aura CDT student, Daniel Whitt is taking a key role in education outreach activity by the Department of Physics at the University of Hull. While still an undergraduate at Hull, Daniel began to work with his head of department, Professor Brad Gibson on workshops in a mobile planetarium. Over time his role has grown and he now leads an undergraduate team, designing and delivering astrophysics workshops to school and community groups.
The workshops have been so effective, that the University of Hull has now invested £30,000 in a new mobile planetarium to help more youngsters reach for the stars. The inflatable dome is large enough to fit a class of 30 pupils inside, along with a teacher and two university workshop leaders. It is also accessible for pupils with special educational needs and disabilities.
Daniel Whitt said: "I have always been interested in science from a young age. My love of Physics has led me to secure a scholarship with the Aura CDT and carry out research that could help the world switch from fossil fuels to renewable energy. I love to share my enthusiasm for science and learning and the planetarium workshops really generate lots of interest. The kids are always buzzing with lots of questions!
"We run workshops specially designed for different age groups from primary through secondary.  Older might look at things like forces and fusion reactions and the balance of pressure, whilst younger children will look at where in the solar system they would most likely go on holiday – you can go to Uranus and witness a diamond thunderstorm! Whatever the topic, we always make sure they're fun and interactive as well as educational."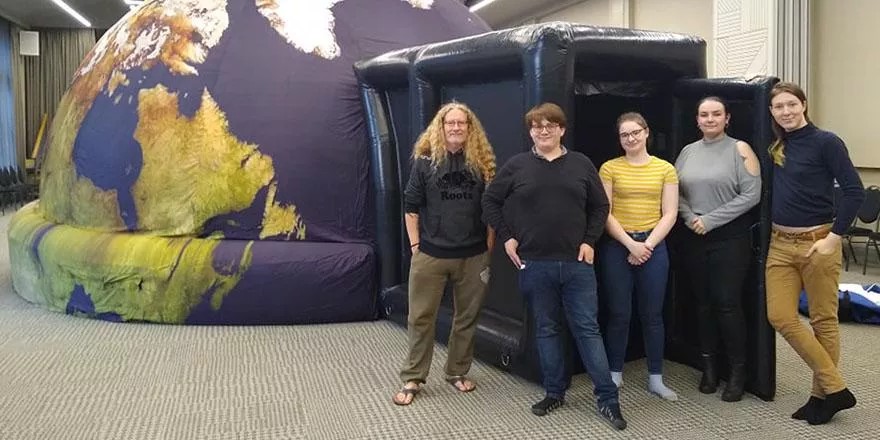 Over the last three years, the team of undergraduate students, led by Daniel have delivered nearly 200 shows to 5,000 students.
Professor Brad Gibson, said: "Three-quarters of the students reached were from schools in socio-economically challenged areas, a philosophy which underpins everything we do in running perhaps the most ambitious outreach programme in the country.
"Our investment in the new and even more expansive mobile planetarium will only increase the impact that our students have already had on thousands of other students.
"The incredible success of the programme is truly a testament to the passion of these students and their commitment to widening participation."
Daniel Whitt is a Cohort 2 student at the Aura CDT, researching Wind Sourced Energy Storage in the Physics Department at the University of Hull. His research addresses challenges around the intermittent nature of offshore wind energy production and the potential to store excess wind energy using hydrogen.