News
Aura CDT Students lead Scicomm Events at the Pint of Science Festival
16 June 2022
A group of Aura CDT students got involved with this year's Pint of Science festival, organising two events: "Going Offshore: The Future of UK Energy" and "How Prepared is Hull for Future Flooding?"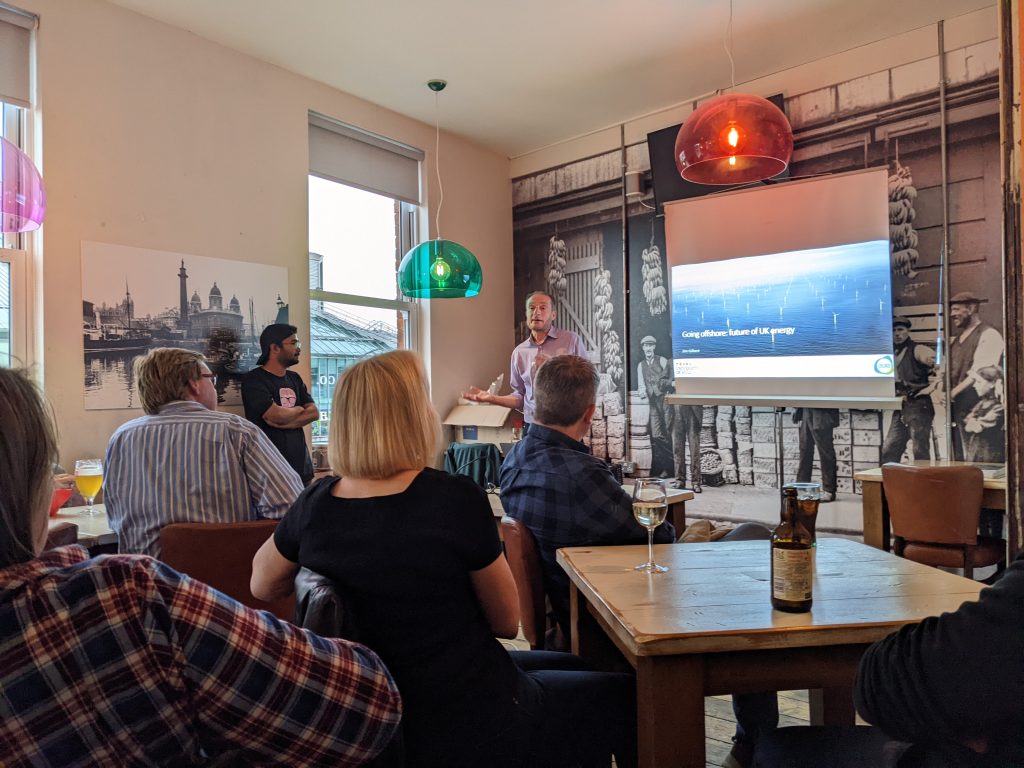 For the first event Professor Jim Gilbert from the University of Hull gave a fascinating introduction to the offshore wind industry including some of the challenges and recent developments. This was followed with an interactive quiz to test how well the audience were listening. The event was expertly hosted by Ewan Norris and Nilotpal Dhar, both Aura CDT Cohort 3 students.
 "The night provided a fantastic opportunity to lay a finger on the pulse of the public's feelings around offshore wind, and it's safe to say the pulse is racing! Jim had to skip his half time break as the questions simply would not stop coming, and the level of questions would not have been out of place in a lecture theatre. It was heartening to see how invested people are in the future of our energy mix and we hope the quiz provided a view into how Hull is at the forefront of this growing industry." Ewan Norris, Aura CDT Cohort 3 Student and event host
The second event took the form of a panel discussion with colleagues from the University of Hull's Flood Innovation Centre and from the Hull City Council Flood Risk Management department hosted by Sarah Bee from Aura CDT Cohort 2. The half time demonstration was run by the Flood Innovation Centre and featured the amazing SuDSi! (An interactive demonstration into the impact of sustainable drainage systems!).