News
Aura CDT student on fieldwork on Royal Navy survey vessel HMS Magpie
28 April 2022
Aura CDT student Niall Tracey was recently given the chance to go aboard one of the Royal Navy's survey vessels, HMS Magpie.
Niall is a Cohort 1 student undertaking his PhD at Durham University, under the primary supervision of Professor Peter Talling, Dr Steve Simmons and Professor Dan Parsons. His research project aims to develop and field test novel acoustic methods for directly monitoring and understanding the processes of seafloor sediment transport and scour. 
During his free time, he attends the local University Royal Navy Unit Northumbrian which is located at HMS Calliope on the Gateshead Quayside. URNU Northumbrian aims to provide world-class maritime and leadership training to students at university and to facilitate the opportunity to join the royal navy, for those who wish to do so.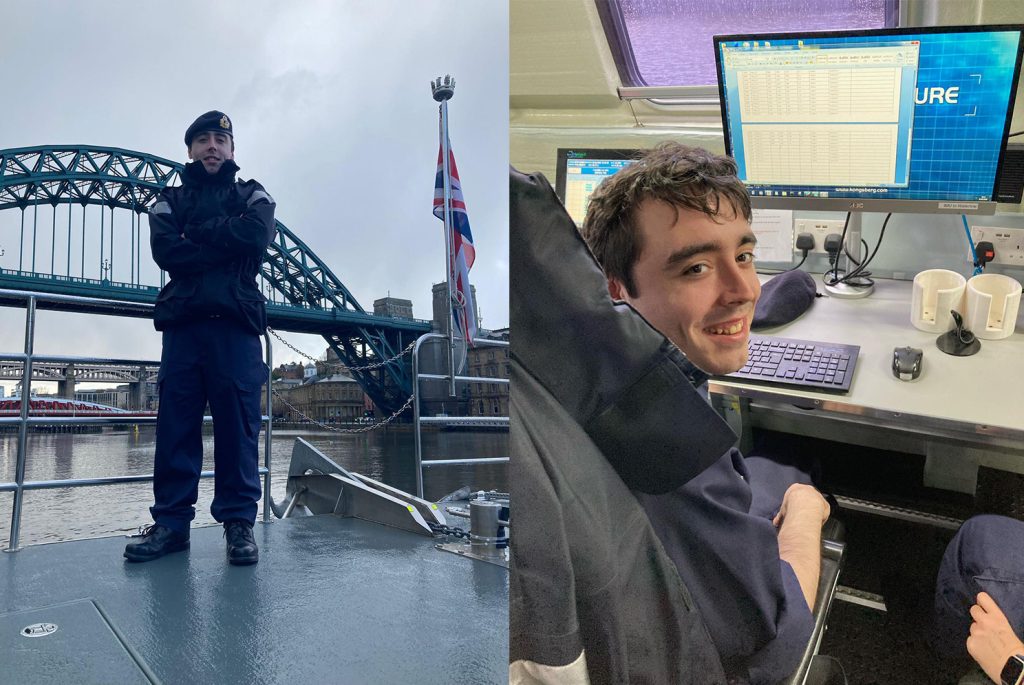 "Over the past week from the 29th of March – the 1st of April I was aboard HMS Magpie with the Royal Navy conducting some multi-beam surveys. This time aboard has given me the chance to see how the Royal Navy operate, giving me the chance to see how emergency drills are conducted and to participate in the running of the ship, casting off and coming alongside each day.
I was also able to further develop upon the hydrography skills I have gained during my PhD. This opportunity gave me the chance to gain more practical fieldwork skills such as in the setting up and running of multi-beam surveys and of collecting tidal and sound velocity profile data. This opportunity was extremely valuable to me as after my PhD I wish to take my hydrography skills forward into the offshore wind sector."
You can read more about Niall Tracey's Aura CDT PhD research here.