News
Aura CDT students share their experiences in Equinor podcast
6 April 2022
Aura CDT students were interviewed by internationally respected sustainability journalist James Murray (BusinessGreen Editor) for Equinor's podcast series entitled "Destination Zero: Realising a Low-Carbon Future".  The podcast series aims to explore the actions needed in the UK to achieve net zero by 2050, and to introduce the projects currently in development in the North-East of England that will help deliver this goal. 
Cohort 2 students, Sarah Bee and Victoria Bessonova feature in "Episode 3: Fostering the Low-Carbon Workforce of the Future", alongside Louise Smith (Director, Aura), Ben Morgan from AMRC, Kirsty Clode from Women in Manufacturing and Engineering (WiME) and Liam Johnson from Inmans Primary School.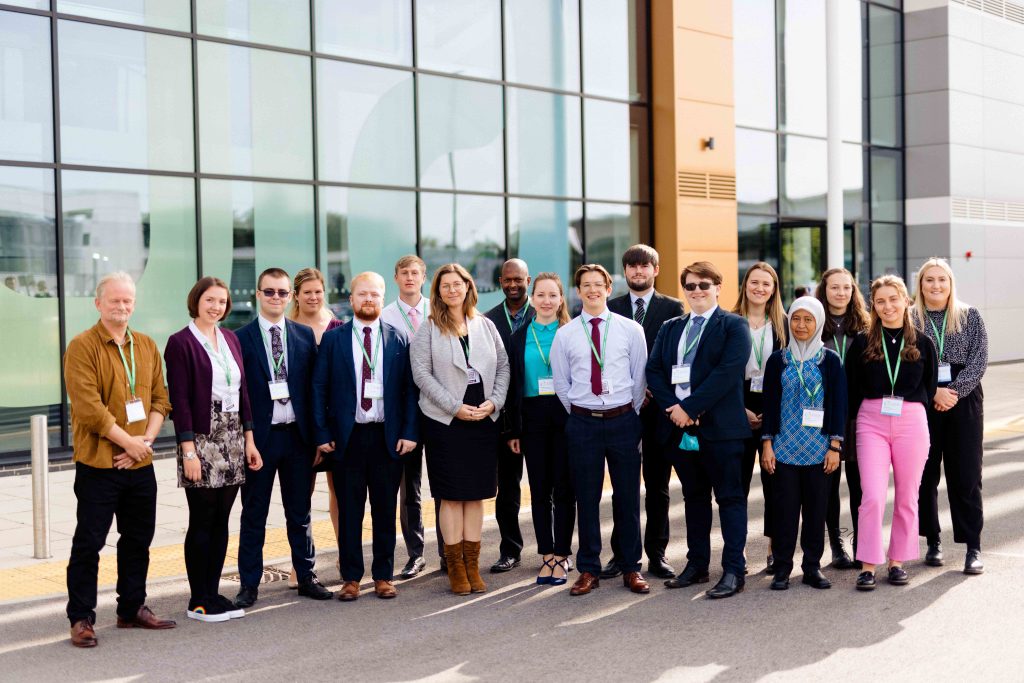 Aura CDT Cohort 2 students including Sarah Bee (second from left), Victoria Bessonova (centre)
Episode 3 examines the need for a dedicated and highly skilled workforce that lies at the heart of the energy transition process. James spoke to our Aura CDT students as representatives of the next generation of workers helping the UK achieve net zero. Sarah and Victoria shared their own career paths into the offshore wind sector and thoughts on how industry can better engage with young people and attract and retain diverse talent. 
Sarah Bee said "Role models are such an important thing in society. The more women that are in industry and are excited about it … the more role models we have in society talking to the community, talking to their families, that in itself can be really impactful and really powerful."  
Victoria Bessonova added "Something that companies can do directly is a visitor centre – if there was something accessible where you can find out how wind farms work and the options for working in the industry it would be so much easier to get excited about it … when you see the skills that are needed it makes you more motivated to keep going and apply to university."  
Equinor's new podcast series aims to offer unique insight into ground-breaking energy projects in the Humber 'Energy Estuary' and examines broad energy, environment and climate change issues. The series comprises six, 30-minute episodes, published fortnightly from mid-February to mid-April. Episodes cover a range of topics, from local supply chain opportunities to myth busting around innovative technologies like hydrogen and Carbon Capture Utilisation and Storage.  
Guests featured across the rest of the series include not only Equinor staff, but a wide range of speakers including Members of the UK Parliament; Government policy makers; senior leaders in partner businesses; trade body and industry spokespeople; and prominent academics.  
The podcast is available on the Equinor website, or on podcast platforms such as Spotify and Apple. 
Sarah Bee is researching "Advanced data analysis and robust statistics for structural health monitoring of wind turbines: from individual components to a fleet" at the University of Sheffield through the Aura CDT.
Victoria Bessonova is researching "The future of global offshore natural capital with climate change" at the University of Hull through a through a joint scholarship from the Aura CDT and ORE Catapult.